The annual
English Heritage Angel Awards
, founded by Andrew Lloyd Webber and supported by the Telegraph, celebrate the efforts of local people who have saved historic buildings and places.
We are delighted to say that Adam Hill who is currently working on the Masters House has been nominated this prestigious award for his inspirational work and continual improvement over the course of the works.
Adam hard at work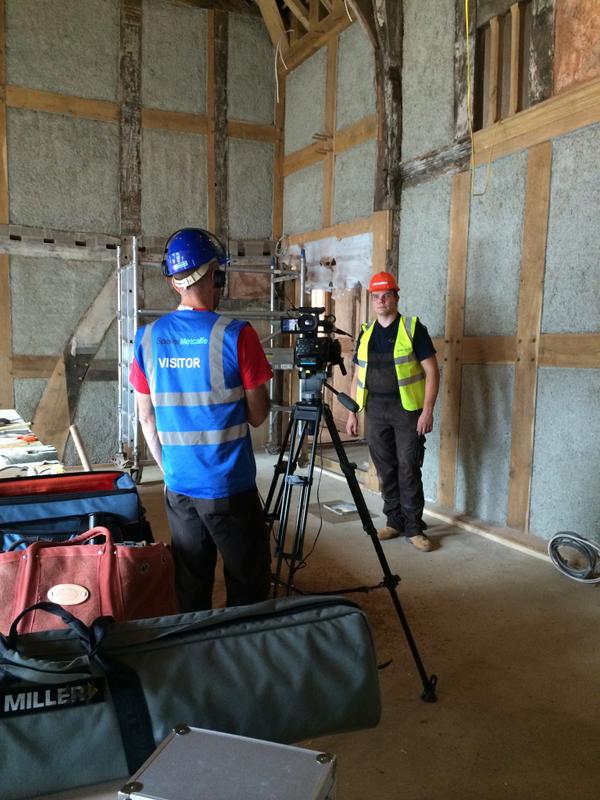 Filming on site for the awards
As the ultimate winner is voted for the public it would be excellent if you could register your support for this outstanding young man by taking a couple of minutes to complete the following voting form by following the attached link! https://www.surveymonkey.com/s/VJSGRJ8
See below for details of the submission that was made to English Heritage detailing Adam's hard work and progress throughout the project.
'Extract from the submission'
Adam was employed as a labourer in 2011, carrying out general works on site. It was soon recognised that he had a keen eye for detail and, once it was revealed that he had some training as a joiner, BHA the architects suggested that he should be given the opportunity to work on some minor repairs on the historic timber frames.
In this context, Adam soon flourished and his true potential became abundantly clear. Indeed, his early framing repairs demonstrated innate skill and outstanding craftsmanship far beyond his years and experience.
As such, he was soon trusted with many of the more demanding historic repairs, including fine mouldings, frame repairs and chamber beam repairs. Adam completed these works with exceptional precision and acute attention to detail, deservedly earning a pivotal role with the specialist framing sub-contractors. He became responsible for the execution of the most complex repairs to medieval timbers throughout the Master's House.
Moreover, Adam has proved himself to be an inspiration to the workforce with his diligence, care and enthusiasm. He has been pro-active in learning and executing new found skills, spending his spare time making traditional tools for his colleagues. These have included a range of carpentry tools (framing slick, froe and gouges) and lignum vitae beaters for the leadworkers. In his research, Adam has gone to extraordinary lengths: making his own forge at home to cast a fantastic array of axes and blades out of old car springs.
Adam has demonstrated his proficiency as a sympathetic traditional craftsman and is set to have a bright future within the heritage sector. He made an outstanding contribution towards the repair of the one of the most significant surviving examples of a medieval timber framed hall house in the UK. We have no hesitation in highly recommending Adam for the award for 'best craftsmanship trainee'.
See the Heritage List entry for
the Master's House, Ledbury